Title: 2013 PTI PROJECT AWARD WINNERS EXEMPLIFY THE ADVANTAGES OF MODERN PT APPLICATIONS
Date: 04-11-2013

Release:


Farmington Hills – (April 11, 2013) – The Post-Tensioning Institute (PTI) a nonprofit organization for the advancement of post-tensioned, prestressed concrete design and construction, has announced the recipients of the 2013 PTI Project Awards to be honored May 6 at the PTI Awards Dinner in Scottsdale, AZ during the 2013 PTI Convention.

The awards jury, comprised of industry representatives, evaluated award submittals based on creativity, innovation, ingenuity, cost effectiveness, functionality, constructability, and aesthetics. Fifteen exemplary post-tensioning projects were selected to receive awards in the following categories: Project of the Year; Buildings; Bridges; Parking Structures; Repair, Rehabilitation, and Strengthening; Industrial/Special Applications; and Slab-on-Ground.

Project of the Year: Wacker Drive Viaduct Reconstruction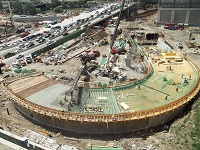 Submitted by: Alfred Benesch & Company; T.Y. Lin International
PT Supplied by: DYWIDAG-Systems International USA, Inc.; VSL
The project was entered in the bridge category and is a remarkable example of urban reconstruction. Wacker Drive's reopening in December of 2012 was the first time in which both the lower and upper levels have been open fully to the public since 2010. Post-tensioning was the single most critical element to accomplishing the project's main objective, affording exceptional flexibility in the design of every major infrastructure component. The project team was able to accommodate heavy loads, unbalanced spans and geometric anomalies by adjusting the horizontal layout and vertical drape of the strands, which is not feasible using other systems of construction.
Bridges:
Award of Excellence: The Vidalta Bridge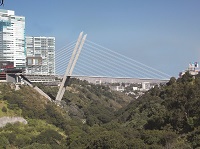 Submitted by: MEXPRESA
PT Supplied by: MEXPRESA
The Vidalta Bridge is a concrete-steel composite structure that was conceived to maximize the use of post-tensioning techniques. Its 161 m steel main span is supported by means of parallel strand cable stays, while its 78 m compensation back assembly is made of 50 MPa concrete, post-tensioned with multistrand cables. The Vidalta Bridge is a visually striking structure that maximized the use of PT in multiple structural elements and resulted in a very efficient use of materials.
Award of Merit: I-280 Veterans' Glass City Skyway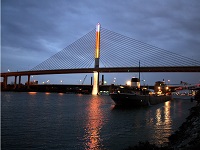 Submitted by: Figg Bridge Engineers, Inc.
PT Supplied by: DYWIDAG-Systems International, Inc.
Spanning the Maumee River in Toledo, OH, the I-280 Veterans' Glass City Skyway incorporates innovative structural and aesthetic features, including a unique pylon design and stay cradle technology that was groundbreaking at the time of its construction. The single plane stays, in combination with the cradle system and precast delta frames post-tensioned into place allow for larger stay spacing and reduce the number of stays, providing more openness at the deck level and more pleasing aesthetics.

Award of Merit: I-64 Kanawha River Bridge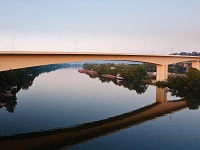 Submitted by: T.Y. Lin International
PT Supplied by: VSL
The bridge is a record-setting, low-cost, durable, and aesthetically pleasing post-tensioned box girder structure built as part of the I-64 Widening Project in Kanawha County, WV. The project demonstrates the cost-effectiveness of post-tensioned segmental box girder construction with the bid price for the PT box girder bridge design coming in at $30 million - 27% - less than the structural steel alternative. The 760-foot main span minimizes the construction impact to local roads and to navigation on the Kanawha River. The "S-Curve" alignment was accommodated with cast-in-place concrete segments and the use of PT made long-span balanced cantilever construction possible.
Buildings:
Award of Excellence: San Francisco Public Utilities Commission Headquarters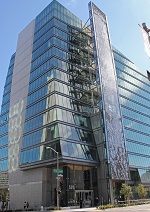 Submitted by: Tipping Mar, Structural Engineering
PT Supplied by: AVAR Construction Systems, Inc.
The LEED Platinum-designed San Francisco Public Utilities Commission (SFPUC) Headquarters will be honored for its innovative post-tensioned design that exemplifies post-tensioning's capabilities to save material, improve seismic resilience, enhance functionality, and speed up construction. It stands today as a model for water conservation, energy performance, and indoor air quality. Moreover, the novel, vertically post-tensioned concrete structure gives the SFPUC building superior resilience and the ability to self-center after a large earthquake with only minimal damage resulting, making immediate reoccupation possible.


Award of Merit: 2201 Westlake/Enso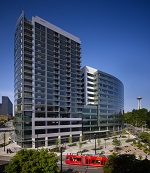 Submitted by: Cary Kopczynski & Co
PT Supplied by: PTC Incorporated
2201 Westlake/Enso is a cast-in-place concrete structure featuring concrete shear walls and a combination of one-way and two-way post-tensioned slabs. The structural frame was selected to satisfy the architectural layout without compromising the owner's vision for open and spacious floor plans for office, retail, residential and parking stacked vertically without column offsets and transfers. The project used an innovative combination of PT and high strength concrete and reinforcement. The long-span PT design facilitated the minimal use of interior columns and the construction of a curved exterior façade.
Award of Merit: The Trump International Hotel & Tower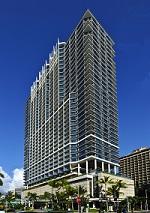 Submitted by: Baldridge & Associates Structural Engineering, Inc.
PT Supplied by: RPS Cable, Inc.

The Trump International Hotel & Tower, located on Waikiki Beach, is a 38- story luxury hotel and condominium. This highly desirable address set a world record for sales, selling all 464 units in eight hours for a total of over $700 million. This challenging mixed use design has 19 structurally unique floors that effectively use post-tensioning to optimize functional space and maximize value for owners and occupants. The building includes optimized thin post-tensioned slabs, 23 transfer girders, a 10 in. thick post-tensioned transfer slab at the penthouse, sloping columns, numerous wall-to-column transitions, unique composite steel plate link beams, and uninterrupted views of the Pacific Ocean.
Industrial/Special Applications:
Award of Excellence: Target Field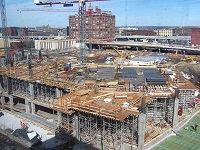 Submitted by: AMSYSCO, Inc.
PT Supplied by: AMSYSCO, Inc.
The use of post-tensioning facilitated a complex construction schedule and allowed that design/construction team to deal with challenging site conditions. One of the greatest benefits of post-tension construction at Target Field was along the third base line over the railroad corridor. The post-tension design reduced the amount of concrete volume, eliminated the need for re-shoring through the rail corridor, and enabled the Construction Manager to coordinate a complicated sequence of construction.
Award of Merit: The Memorial Wall at Ground Zero,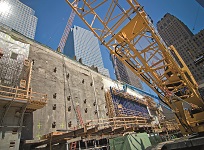 Submitted by: DYWIDAG-Systems International USA, Inc.
PT Supplied by: DYWIDAG-Systems International USA, Inc.
The FDNY Memorial Wall, located opposite Ground Zero, has already been completed and was dedicated by the President George W. Bush on September 11, 2011. DSI's Post-Tensioning/Tieback Anchor System played a critical role in the stabilization and excavation work at the beginning of the rebuilding process and reconstruction of the foundations. This cost-effective solution reduced construction time over other methods, reduced obstruction of the work area and front face of the wall, and provided permanent stabilization of the structure by preloading to high tension forces.
Parking Structures:
Award of Excellence: Joint Traffic Management Center Parking Structure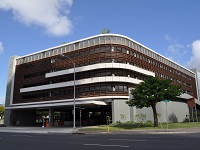 Submitted by: Baldridge & Associates Structural Engineering, Inc.
PT Supplied by: CMC Cable
In March 2010, the City and County of Honolulu released a competitive Design-Build RFP to design and construct a multi-storied, access-controlled parking structure to accommodate a minimum of 380 cars in addition to providing parking space for sixteen busses and two travel lanes at grade. This project exemplifies the cost-effectiveness of post-tensioning, with the cast-in-place post-tensioned design being selected over a precast, prestressed alternative. The use of post-tensioning allowed the designers to round off two corners to meet the aesthetic requirements of the owner. Building Information Modeling (BIM) was used by the design/construction team to reduce the structure size, resulting in a savings of materials while increasing the number of vehicles that could be accommodated, enabling the structure to attain a LEED Gold rating.
Award of Merit: The Green Screen Parking Structure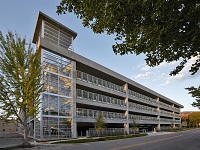 Submitted by: American Structurepoint, Inc.
PT Supplied by: AMSYSCO, Inc.
This unique parking structure is an excellent architectural expression that was achieved at an economical cost. The design-build project was completed in 300 days and features a massive installation of vertical green walls comprising 7,000 sq. ft. of Basic Wall™ living, growing vines by GSky Plant Systems Inc., along two of the four sides of the five- story parking garage. With aggressive pricing, efficient geometry, streamlined architecture, and repeatability, the cost per space for the structure came in at approximately $10,500, which is significantly lower than the national average (approximately $16,300/space).
Repair, Rehabilitation and Strengthening:
Award of Excellence: Raleigh Durham International Airport – PG-1 Structural Modifications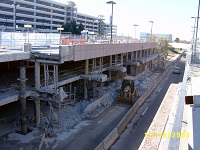 Submitted by: Walker Parking Consultants/Walker Restoration Consultants
PT Supplied by: DYWIDAG-Systems International USA, Inc.
The project involved amputating a significant portion of an existing post-tensioned airport parking structure to allow the airport owner to move a roadway closer to the parking structure. This would allow expansion of a terminal building that was landlocked by runway offsets and roadways. The design/construction team used a variety of post-tensioning repair techniques to provide the most environmentally responsible solution to the owner and in the process overcame many misconceptions regarding PT repair. The overall success of this project exemplifies how the common myths regarding the impossibility of structurally modifying PT structures are unfounded.

Award of Merit: Reinforcement of Driscoll Bridge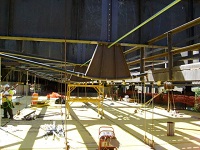 Submitted by: DYWIDAG-Systems International USA, Inc.
PT Supplied by: DYWIDAG-Systems International USA, Inc.
Garden State Parkway Structure #127.2, better known as one of the "Driscoll Bridges," spans the Raritan River in New Jersey. The reinforcement demonstrates the innovative use of post-tensioning to strengthen a badly damaged steel structure, without damaging existing structures. Through several custom PT applications, the project effectively dealt with the constraints of current codes on a very old structure on a very tight schedule and implemented the application of state-of-the-art electromagnetic sensors to monitor the long term force in the cables.
Award of Merit: Rehabilitation of a Parking Garage in Downtown Milwaukee, WI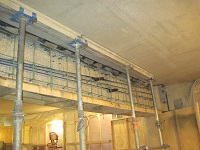 Submitted by: Wiss, Janney, Elstner Associates, Inc.
PT Supplied by: VSL
The structural rehabilitation of this parking garage involved extensive repairs to the slab post-tensioning system, and the repair techniques used were tailored to enhance the efficiency of the repairs and durability of the repaired structure. The repair project also used external post-tensioning to strengthen beams where the beam tendons had deteriorated due to corrosion. Multiple innovative repair techniques were used to address extensive distress throughout the structure.
Slab-on-Ground:
Award of Excellence: Emergency Vehicle Operator Course (EVOC)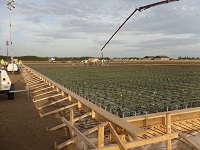 Submitted by: AMSYSCO, Inc.
PT Supplied by: AMSYSCO, Inc.
Constructed for the Minnesota Department of Military Affairs in Camp Ripley, EVOC is a unique 60,000 sq. ft. post-tensioned concrete slab-on-ground that is made slippery so that vehicle drivers can practice controlling skids. Unlike most concrete slabs of similar square footage, EVOC had two pours of 30,000 sq. ft., which were poured on consecutive days. Since the concrete slab would be exposed to aggressive environments from inclement Minnesota weather and a variety of chemical spills during vehicular testing, the project documents required an encapsulated post-tensioning system designed to PTI specifications.
About the 2013 PTI Convention and Awards Program:
The 2013 PTI Awards Reception and Dinner will take place on the evening of Monday, May 6, 2013. The reception will begin at 6:00 p.m. and the dinner and awards program will follow at 7:00 p.m.

The 2013 PTI Convention will be held May 5-7 at the Hilton Scottsdale Resort and Villas. The convention offers eight technical sessions, over 25 committee meetings, an industry trade show, the 2013 PTI Awards Dinner, and several networking events. Additionally, PTI the Design of Buildings with Post Tensioning seminar and Design of Post-Tensioned Slab-on-Ground with the New PTI Standard DC10.5-12 seminar following the convention on Wednesday, May 8. Reduced convention registration rates are available through April 12. Visit www.post-tensioning.org to learn more.
For additional information and project photographs, contact Jeff.Ponder@post-tensioning.org.